Reliable Quality Service System
Reliable Quality Service System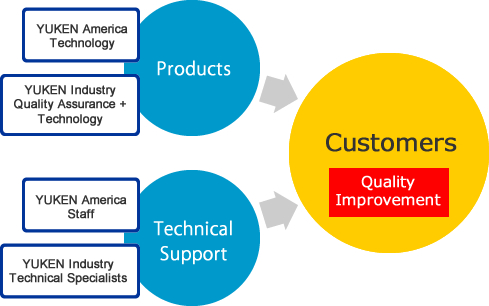 To facilitate the use of our products, YUKEN America has a follow-up framework in place with YUKEN Industry.
Besides conducting quality checks at YUKEN America, the Yuken Industry QA and Technical Departments are also involved as needed to maintain a consistent level of product quality.
For most of the surface treatment chemicals, besides the performance of the product itself, appropriate environmental conditions for usage are just as important for the product to perform at its designed specifications. For this reason, it is crucial to have technical support to meet customer requirements. YUKEN America staff, experienced in surface treatment technology, follow up on technical matters and cooperate with Yuken Industry specialists as required to assist our customers in improving product quality.
Inquiries about YUKEN Quality
Feel free to contact us with any inquiries.