President's Note Company Profile Company History Network
President's Note
As specialists in metal surface treatment, we are committed to formulating solutions concerning environmental protection, high performance, high functionality and globalization, along with our Japanese strategic partners in automobile and electronics device manufacturing.
Here in North America where many industries are located, we seek to use our expertise in metal surface treatment to establish a global presence and contribute toward environmental protection in the midst of widespread greenhouse concerns.
Harmony with the environment is treated with top priority in our management policies as we set forth on "the transition from net zero to net negative carbon emissions" in order to realize a low carbon emission society. Our aim is to reduce CO2 emissions and enhance sustainability through the products and services we deliver to our customers.
"Customer First" is a crucial marketing policy for YUKEN in our business activities.
We believe that wholehearted adherence to this policy provides the key to satisfying our customers and earning their trust. As we continue to serve our customers, we strive to be the corporate entity setting the standard for customer satisfaction.
We hope to contribute toward the expansion of our industry and the development of society both in North America and worldwide. Further, we look toward anticipating changes in trends and to employing YUKEN surface treatment technologies to achieve resource and energy efficiencies as well as environmental improvements. In these ways, we hope to earn the trust not only of our customers but also of our business partners, local residents and all stakeholders.
Ryoichi SUKENOBU
President
YUKEN America
Company Profile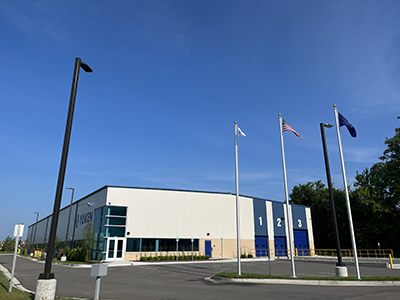 Company name
YUKEN America, Inc.
Location
49178 Alpha Court, Wixom, MI 48393
Phone
248-888-7771
FAX
248-888-7757
Business

Overview

Production and distribution of industrial cleaners and surface treatment agents
Company History (YUKEN)
| | |
| --- | --- |
| Mar 1937 | Inuzuka Kougyousho founded as a manufacturer and distributor of textile oil agents |
| Feb 1951 | Incorporated under the company name of YUKEN Chemical Industry Co., Ltd. |
| Dec 1957 | Started the development, manufacturing and distribution of metal surface treatment agents which became the core part of the Chemical Products Business Department |
| Sep 1965 | Succeeded in the development of plating on plastic materials |
| May 1966 | Received commendation as a good tax-paying corporation |
| Jul 1974 | Company name changed to YUKEN Industry Co., Ltd. |
| Jul 1983 | The New Ceramic Binder received certification as a novel technology from the Foundation for Research and Development Industry Cultivation Center (currently the Venture Enterprise Center) |
| May 1989 | Started the functional thin-film processing business |
| Oct 1991 | Received an excellence award for workplace environment |
| Apr 1992 | Started sales of non-Freon and no-ethane cleaning agents, following the complete ban of Freon |
| Oct 1997 | Expansion into China (HuaBei: Tianjin, HuaDong: KunShan, HuaNan: ShenZhen) |
| Aug 1998 | Construction of the Takatana new factory in Anjo City (for functional thin-film production) |
| Apr 2001 | Obtained the International Environment Standards ISO14001 certification |
| Jan 2003 | Received the Medium and Small Business Research Institute Award (National Award) |
| Feb 2003 | Received the "monozukuri" NAGOYA brand award |
| Sep 2005 | Received the "Love the Earth" Exhibition Award |
| Feb 2006 | Established YUKEN EMPLOY Co., Ltd. |
| Apr 2006 | Established YUKEN America, Inc. in Michigan, USA |
| Jan 2009 | Completed construction of the Toyama Factory |
| Apr 2011 | Established Siam YUKEN Co., Ltd. in Thailand |
| Feb 2012 | Received Best Award from the Aichi Environment Award |
| Apr 2012 | Received JSTP Medal for Technology from the Tokai branch of the Japan Society for Technology of Plasticity |
| Feb 2014 | Established YUKEN Mexicana, S.A. de C.V. in Irapuato, Mexico |
| Mar 2016 | Established YUKEN Surface Technology, S.A. de C.V. in Mexico |
| Apr 2018 | Established YUKEN Europe GmbH in Frankfurt, Germany |
Network
A system for distributing YUKEN products to all parts of the world
YUKEN products are being used worldwide. Designed to be environmentally friendly, YUKEN's surface treatment technology is gaining popularity worldwide, and several sales offices and distribution dealers are also being established in countries around the globe.